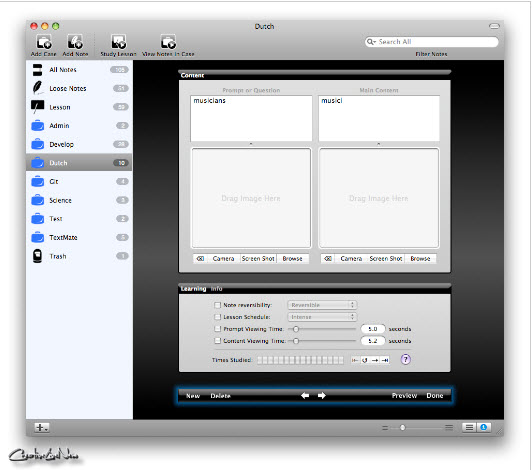 Description:

Mental Case is many things: a drop box for your thoughts; RSS for your head; an index of your knowledge; but ultimately, it's just a fun way to remember stuff. And 'stuff' can be anything, from your new mobile phone number to the Presidents of the United States. Mental Case can even help you remember to stick to a diet. All you do is gather tidbits of information in 'mental notes'. Enter some text, drop in an image, take a screen shot, or even snap a picture with your iSight. Mental Case is a smart tool that schedules the note to reappear at future dates. When you have a few minutes to spare, you watch the scheduled notes in a slide show. Mental Case makes learning a pleasure.


Features:

* Mental notes Mental notes are very similar to traditional flash cards. You can add a small amount of text and/or an image to each mental note, and optionally include a prompt or question.
* Repetitive learning Mental notes get scheduled for future revision in a lesson. Mental Case uses an optimized algorithm to ensure that you get maximum memory retention for the time you spend studying.
* Sharing and Syncing You can export (or print) mental notes in order to transfer them to your iPod or iPhone, upload to the web, or share with others.
* Organize your notes You can group your mental notes together in mental cases, which are like folders in the Finder. Drag and drop your notes from one case to another, or review an entire case in a slide show.
* Quick entry Mental Case includes quick note entry, which allows you to create new notes at any time using hot keys or a global menu, whether you are working in Mental Case or not.
* Capture from screen or iSight Sometimes the information you want to put in your mental notes is already on your screen, or in a book. Don't bother typing it over, just use the built in screen capture facilities, or take a photo with your iSight.
* Themed slide shows Lessons are presented in themed slide shows with attractive transitions, making learning less of a chore. You can choose the themes and transitions yourself.
* Preferences Mental Case includes an advanced system of preferences for controlling how often notes are scheduled to appear in a lesson, and how long they are displayed in slide shows.